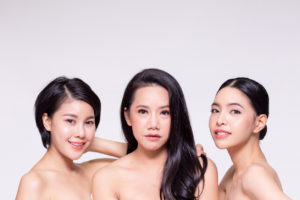 If you're looking to learn how to care for different hair types, you're in the right place. Whether your hair is damaged, dry, curly, straight, or fine, you need to know your hair's curl patterns, its density and styling need because healthy self-care includes your hair.
The key is to understand what each type needs so you can style it well and keep it healthy. Read these tips that we have put together to help keep your tresses looking healthy, shiny and beautiful.
If you have damaged hair
Tip: Try using a nourishing oil
How often do you use hair oil? If you have damaged hair, be it from the environment, colour or heat styling, this is something to consider including in your routine. As the name suggests, it toes the line between a serum and an oil, making it the perfect hair care and hairstyling product all at once. So not only will it help strengthen your tresses against breakage, but it should help smooth and make your hair easier to style, too.
If you have dry hair
Tip: Try an oil treatment
There are many reasons for dry hair: over-styling, excessive heat, and internal and external dehydration are just a few of the usual suspects. To solve the problem, owners ought to introduce an oil treatment that you can use for your pre-shampooing routine. It can be used before hair-washing to help add moisture to your thirsty locks. However, if you have naturally dry hair not caused by damage but more of genetics, then gentle yet nourishing products might be more suitable.
If you have curly hair
Tip: Use a leave-in conditioner
Dryness and frizz probably top the hair enemy list for anyone with a curly hair. Because of the 'S' or 'Z' shape of curly hair, the scalp's natural oils have more trouble travelling down the hair than for those with straight hair, which often equals in dryness and loss of curl definition. However, there are easy ways to rehydrate your curls and increase manageability. For example, instead of combing, which can lead to frizz and breakage, use a leave-in conditioner and rake through wet hair with your fingertips. You can also air-dry instead of using a blow dryer.
If you have thin or fine hair
Tip: Try reversing your hair washing routine
When you apply conditioner, are you applying it mostly to your scalp or just your tips? Making sure that you concentrate your conditioner application only to the lengths of your hair rather than your roots can make a big difference. And while this technique is one to note across the board for all hair types, it's even more important for fine or thin-haired ladies. Because fine hair often has issues with retaining volume and lift at the roots, applying too much conditioner can weigh it down, or even irritate the scalp. But if you're one of the many who still find the usual wash-out conditioners leaving behind heavy, greasy-feeling hair, perhaps it's time to switch it up and apply your conditioner first? It may sound rather unconventional, but it could be a suitable hair care method for your hair type.
Enhance your hair care effort with Oriental Hair Solutions' treatments! For August, you can enjoy 2 sessions of Express Hair Growth Therapy treatment at only $38 and receive a complimentary set of Hair Care Kit (total worth $828). If you visit our Jean Yip Loft and Ngee Ann City outlets, you get to enjoy the same promotion at an exclusive price of only $28!
Click here to make your appointment before the promotion ends!